Thai massage is a holistic healing system that includes a number of ways to influence muscle tissue, exercises reminiscent of yoga poses, reflexology, and activating the flow of energy in the human body. The roots of Thai massage lie in Ayurveda, an ancient Indian healing system, the oldest in the world. The history of Thai massage is about 2500 years old.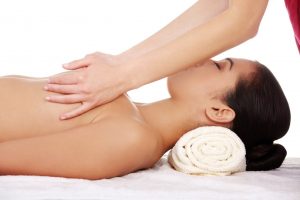 A session can last from one to two or even three hours.
The client, dressed in light pants and a T-shirt, lies on a special mat. Smooth, deep and soft movements, performed in a single rhythm, gradually change the electrical activity of the brain, putting the brain in a slower mode of operation. The resulting altered states of consciousness allow the patient to creatively process recent life impressions, and sometimes even experience a kind of mini-insights that make the perception of life more positive.
During the session, it is possible to affect the deep-lying skeletal muscles, which are inaccessible to the usual classical massage. At the same time, due to the activation of energy channels, the quality of the nervous and cardiovascular systems changes.
The results of a single wellness Thai massage in Downtown are comparable to three days of outdoor recreation.